Our rehearsal studios in Dubai were the chosen rehearsal space for EXPO 2020 DUBAI musicians. Studio B is a 650 SqFt state-of-the-art, sound-proofed and acoustic treated room with high-end equipment, which accommodates up to 20-piece band members. It is connected to Studio 1 through an Avid MTRX system ready to take your musical creations to the next level of awesome!
Everything from drums to amps and mics is pre-wired. For this reason, all you would need to bring are your guitars, pedals and cymbals!
We offer live stereo recording inclusive of the hourly rate, as well as multitrack recording for an extra fee.
If needed, we also offer equipment for rent so please contact us for availability and rates.
Scroll down to book online your band rehearsal space in Dubai!
Gallery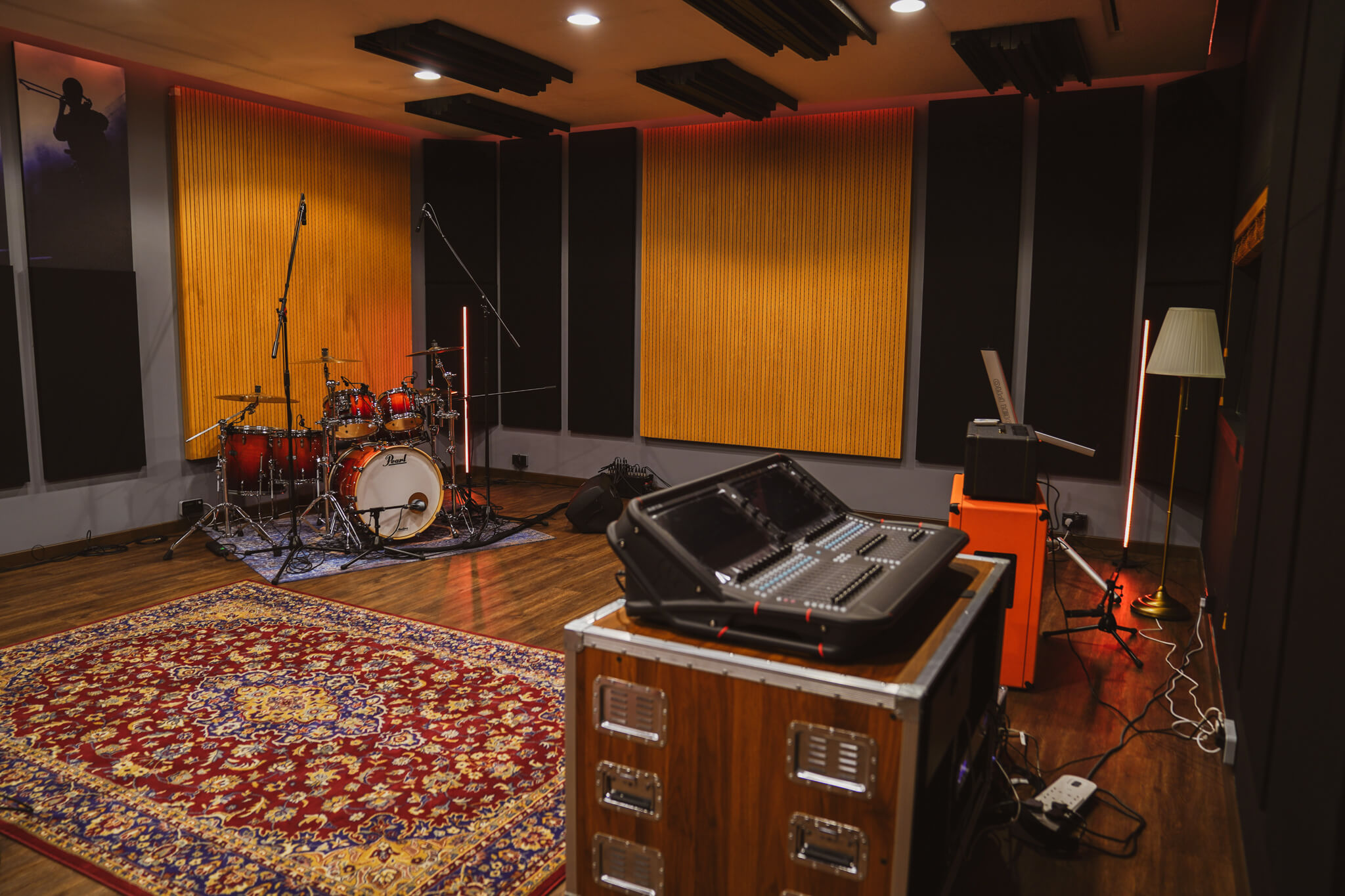 Specs
650 Square Foot Room
Accommodates 15 to 20-Piece Bands and Chamber Orchestras
Equipped with a PA System, a Mixing Console and a High-End Drum Kit
"On the go" Rehearsal Recording in Stereo with the Push of a Button
Multitrack Recording Using High-End Allen & Heath Avantis Console at an Extra Charge*
Additional Gear Available for Rent at a Flat Daily Rate*
Controllable LED Mood Lighting
Hardware
Shure SM58 Microphones (x2)
Shure SM57 Microphones (x4)
Shure Beta 52 Kick Drum Microphone
Shure Beta 98AD Tom Microphones
Shure KSM137S Condenser Microphones
Allen & Heath Avantis 64-Channel 42 Bus Digital Console, 12XLR I/P, 24 Faders, VFX Rack, Dual 16" Touch Screens
Allen & Heath Dante I/O Expander; 16 Mic/Line, 4 XLR O/P + DC Input
Allen & Heath DT168 Portable Dante I/O Expander, 16 Mic/Line, 8 XLR O/P
Allen & Heath Dante Card for DLive Systems, 64x64 Bi-Directional Audio, 96KHz/48KHz, EtherCon Ports
Allen & Heath ME-500 16 Channel Mono/Stereo CH Personal Mixer with PSU
Mackie HM-4 4-Way Headphone Amp
Mackie SRM650 Powered Loudspeakers
Mackie SRM1850 Powered Subwoofer
Backline
Pearl Masters Maple Fusion 4-Piece Drum Kit w/ Maple Snare & 16x16 Floor Tom (Chestnut Fade)
Blackstar ID60HTV 60W Digital Amp Head
Blackstar ID412B Speaker Cabinet
Blackstar FS-10 Foot Controller
Ampeg PF500 Bass Amp Head
Ampeg PF115HE Amp Cabinet
Orange Dual Dark 50 Guitar Amp Head
Orange PPC412 Guitar Amp Cabinet
Available for in-house hire
Sennheiser E-600 Series Drum Microphone Set
Sennheiser E-614 Instrument Microphone
Sennheiser E-602 Kick Drum Microphone
Sabian B8X Cymbal Pack
Sabian XSR Performance Pack
Sabian AA Raw Bell Promo Pack
Shure SM7B Microphone (x2)
Mackie MD1P Passive DI Box (x6)
Mackie MDB-1A Active Direct Box (x4)
MDB-2P Stereo Passive Direct Box (x2)
Mackie MDB-USB Stereo DI Box (x1)
BOOK A SESSION
MONTHLY PACKAGES
NEW MEMBER
Is this the first-time you and/or your band will rehearse at our studio?
We've got great news for you! You get 10% off your first booking.
Contact us to avail the offer.
Select Rehearsal Room *
(Prices Exclude 5% VAT)
Basement
Up to 4 Musicians
8 Hours Monthly
AED 185 Per Hour
On-the-Go Stereo Recording
AED 1,480
Basement
Up to 7 Musicians
8 Hours Monthly
AED 200 Per Hour
On-the-Go Stereo Recording
AED 1,600
Gig
Up to 4 Musicians
12 Hours Monthly
AED 175 Per Hour
On-the-Go Stereo Recording
AED 2,100
Gig
Up to 7 Musicians
12 Hours Monthly
AED 187.5 Per Hour
On-the-Go Stereo Recording
AED 2,250
Terms and Conditions
If you need to hire cymbals or any other rental equipment, please contact us for availability and rates as those are not included in the booking fee and are charged separately
If you require to shoot video for your own use, it may come at an extra charge. Contact us for more information
If you exceed the number of musicians package selected, you will be charged the difference to the next tier
Rates do not include 5% VAT
Rates are subject to change without prior notice
Booking hours must be used within 30 days from the first rehearsal
Unused hours cannot be carried over (Except under special circumstances)
Locker availability is not guaranteed and is on first-come first-serve basis
Rates do not apply for corporate hire
No refunds
Basement
8 Hours Monthly
20% Discount on Hourly Rate - AED 400 Per Hour
On-the-Go Recording
Save AED 800
AED 3,200
Gig
12 Hours Monthly
25% Discount on Hourly Rate - AED 375 Per Hour
On-the-Go Recording
Save AED 1,500
AED 4,500
Show
16 Hours Monthly
25% Discount on Hourly Rate - AED 375 Per Hour
Free 1-hour Multitrack Recording Worth AED 750
1 Free Locker
15% Discount on Mix Services
Save AED 2,750
AED 6,000
Concert
24 Hours Monthly
30% Discount on Hourly Rate - AED 350 Per Hour
Free 1-hour Multitrack Recording Worth AED 750
2 Free Lockers
15% Discount on Mix Services
Save AED 4,350
AED 8,400
Terms and Conditions
If you need to hire cymbals or any other rental equipment, please contact us for availability and rates as those are not included in the booking fee and are charged separately
If you require to shoot video for your own use, it may come at an extra charge. Contact us for more information
If you exceed the number of musicians package selected, you will be charged the difference to the next tier
Rates do not include 5% VAT
Rates are subject to change without prior notice
Booking hours must be used within 30 days from the first rehearsal
Unused hours cannot be carried over (Except under special circumstances)
Locker availability is not guaranteed and is on first-come first-serve basis
Rates do not apply for corporate hire
No refunds